Probably most of you faced this problem to try to download Microsoft Power BI and then you figured it out that is available only for Windows but not for Mac OS. This is why I decided to write an article about a solution to use AWS.
Microsoft Power BI is a Windows application only, which means it doesn't run on a mac. For Mac users missing out of this important Business Intelligence Tool ! There are couple of solutions such as Dual Bootcamp, a local VM or using a 3rd party service, … This method is completely Free, it's a real windows machine that you can upgrade and install any ODBC to work with Power BI, and it takes only a few minutes to install and starts running.
What is required to run Power BI on a Mac?
Before we get started we need to setup two things:
A new account with Amazon AWS
Download the Microsoft Remote Desktop form the Apple store.
1 .Setup an Amazon Web Service (AWS) Account
New User: If you're a new user to AWS then setting an account is easy and free, in fact, as a new user Amazon will give access to more free instances in your first 12 months.
Already User: If you already have an account with AWS you'll still be able to take advantage of the free Windows Server instance that Amazon provides.
Head over to Amazon AWS to sign up for a new account or to login to your existing account.
2. Download Microsoft Remote Desktop
Download Microsoft Remote Desktop. Remote Desktop is a free application that you you can download from the App Store.
3. Setup and configure AWS:
3.1. Choose your Data-Centre region:
After you signed in to your AWS account, you have to navigate to the EC2 instance panel. You do this by clicking on Services from the top left menu and choosing EC2.
Then choose the region where this instance will be launched. AWS have many data centres around the world. The closest the data centre region is to your location, the less latency you will encounter in interfacing with the instance. In many cases, accessing a data centre that resides in the same city where you're located will provide a fluid response that feels you're accessing your own computer. If you cannot select a data centre in your city or country choose the one the most close to your country / city.
3.2. Create a new Key Pair: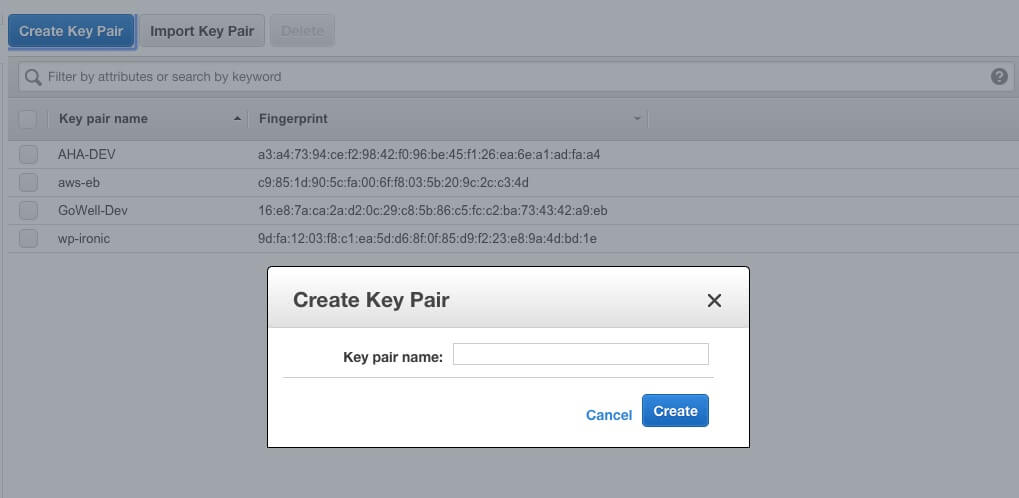 Once the region is selected, you have to create an EC2 Key Pair. Amazon EC2 uses public–key cryptography to encrypt and decrypt login information. Public–key cryptography uses a public key to encrypt a piece of data, such as a password, then the recipient uses the private key to decrypt the data. The public and private keys are known as a key pair.
If you're a first time AWS user, then generating a Key Pair is essential. For existing AWS users, you can generate a new one for the Power BI instance or use an existing key pair.
From the EC2 interface, look for "Key Pair" from the left menu and click it. Then click to create a new Key Pair and give it a name. You're all set now to lunch the EC2 instance. Here I named it for example PowerBIPrivateKey.
3.3. Launch a new Instance:
From the same view, navigate back to Instances and click the Launch Instance button.
Then a series of steps to complete the launch process. The first one being choosing the Amazon Machine Image (AMI). Put simply, AMI is bundle of software packages and configurations.
From the search menu, type the word Windows and press enter to filter the list with only Windows machines. Select the Microsoft Windows Server 2016 Base which shows it's eligible for free. Don't worry, you can always upgrade the instance at anytime without loosing any data.
Then the wizard will ask you to select the instance type (CPU, RAM, GPU and Network) configuration. The choices differ in the pre-configuration that Amazon have built them. Basically you can either start with a Single CPU and 1 Gig of RAM, and customise the instance to any number of CPUs, RAM and Network interface. Or you can select a pre-configured instance. Selecting from the pre-configured choices allows for much predictable pricing, as AWS have made a list of different configuration along with their hourly pricing.
Finally, select the t2.micro, and click on Review and Launch. Click on Launch in the next view. You'll next be asked to select the Key Pair you want to associate it with this EC2 instance, from the drop down menu, find the Key Pair you created in step 2, check the acknowledge check-box and click on Launch Instance.
3.4. Generate the Instance password:
From the summary view, click on the new instance ID to navigate back to the Instances view. You'll need to wait few minutes before you can generate a password to access the instance. As you have to wait, you can click on the small pencil icon in the name field to give your instance a descriptive name. Once it is ready, select the instance and click on Connect from the top menu.
Click on Get Password, another will open asking you upload the Key Pair you downloaded into your computer. Once you upload it, click on Decrypt Password. Do not forget to Save the password on MacPass or LastPass… Otherwise once you will close the windows, you won't be able to show the password again, so saving it at this stage is very important to use Microsoft Remote Desktop later.
3.5. Access Instance through Microsoft Remote Desktop:
Windows Server 2016 instance is ready and now you can access it remotely and use it just like any other computer. So begin by launching Microsoft Remote Desktop. Now follow these steps to add the Instance to Remote Desktop.
Click on the small "+" icon from the top window and Choose Desktop.
PC Name: Copy the Public DNS and paste it in.
User Account, click to expand the drop down selector and select Add User Account.

User name, input Administrator
Password, copy and paste the password from the AWS interface.
Give the Administrator another friendly name if you want.
Slick on Save

Back to the Desktop selector, click Show More
Give the instance a friendly name.
Click on Save.
Now you can connect to Microsoft Remote Desktop and download Microsoft Power BI online. Enjoy Power BI !